I have The Body Shop Shimmer cubes palette 07 quite a while. Sometimes I just stop using this for some reason and after some time I fall in love with this again.
What it is? It's four shimme
ry eyeshadow, held in separate little plastic cubic jars with lids and all slotted in one bigger plastic case. So you can take only those colors that you wish, you can take them all or if you have more of those palettes you can mix and match them whatever you like.
According to the website it contains marula oil, which helps to condition and moisturize skin. So it's not only an eyeshadow, it does help your eyelids to remain healthy.

You get 4 grams of each shadows so it will probably last for ever!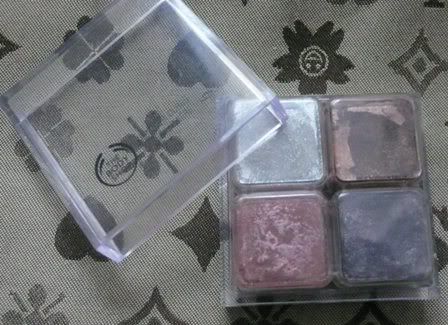 You can use them dry or wet, but if you are going to use them wet, I would advice you to only damp a corner of the shadow, because you can ruin it.
And they can have some fallout because of the shimmers. It's best to use dense brush to apply them. The containers are a little bit messy, so you have to clean them time to time. Texture of shadows is pretty hard but they blend beautifully and work with other shadows very well. You can go both ways: you can create silvery black smoky eye look or you can do daytime appropriate bronzy look.
I find that you need to pack that ruby pink color, because it's sheer (unless y
ou are using it wet, of course). The color is reddish pink with pink shimmers. It's actually looks pretty good all over the lid, you just have to use it lightly.
The most interesting color for me is the black with pink duo-chrome, it's highly pigmented and finely built.
Looks very flattering if used with pink colors.
The bronze color
has golden iridescence and
is highly pigmented also. It's a perfect color to use in the crease.
I like to use both black or bronze c
olors as a liner also.
Silver color has a metallic sheen and it seems that i
t contains lots of silver shimmers. I actually can't find the way to use this for a daytime because it's just too shimmery. But for the night out you can create amazing look.